American Airlines Travel Insurance - 2023 Review
American Airlines Travel Insurance
Strengths
Offered By Reputable Carrier
Weaknesses
Insufficient Travel Insurance Cover
Sharing is caring!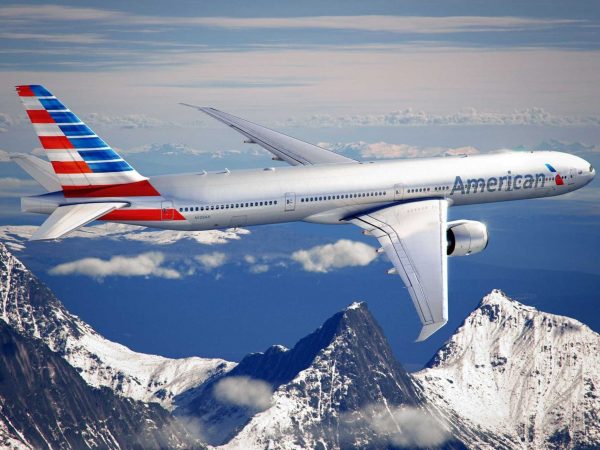 American Airlines is one of the world's largest airlines. In many parts of the USA, it is the dominant carrier. Many of our customers ask if American Airlines provides travel insurance and if so, is it a good value? Currently, American does not automatically offer travel insurance at checkout. If we want travel insurance when booking a flight, we must scroll down to the bottom of the home page and click on 'Trip Insurance' under 'Extras':
Clicking on this link takes us to the Allianz insurance page for American Airlines. We must request a quote for our trip as one is not automatically provided for us.
Let's book our trip on American and then look at our travel option for Allianz and then through the open marketplace at TripInsure101.
Our Sample Trip
For our sample trip, we book a flight from Dallas/Ft Worth to London's Heathrow airport for 2 travelers from October 26,2022 – November 23, 2022.  Total cost for the trip without any additional upgrades is $2448.74.
American Airlines Partners with Allianz Travel Insurance
American Airlines, like the majority of airlines in the USA, uses Allianz Travel Insurance to provide flight trip insurance for their passengers. Clicking on the link at the bottom of the American Airlines home page takes us to the Allianz site for a quote.
Inputting our trip details into the Allianz website for a quote, we have several options for travel insurance. The lowest priced option and the best option for our trip are listed below:
The Journey Protector II is the least expensive option for our trip at $44 but it does NOT refund anything for trip cancellation and only provides a maximum of $300 for trip interruption if we must cancel our trip partway through. Emergency Medical coverage and Emergency Medical Evacuation coverage are both limited to $50,000.
The other option is the Global Travel Protection plan at $306. This plan is a bit more robust and will refund up to 100% of the trip cost if we need to cancel the trip or cut our trip short midway through. It provides the same $50,000 for medical evacuation coverage, but only $10,000 for emergency medical coverage, which is a bit baffling considering the price difference between the two policies.
Are These Options Worth The Price?
When we look to purchase flight insurance what we really want is reasonable coverage at a decent price. We'd like to have our trip costs refunded if we need to cancel and have adequate medical coverage and medical evacuation coverage if we have a medical situation while traveling.
TripInsure101 recommends having a minimum of $100,000 medical coverage and a minimum of $250,000 for medical evacuation coverage when traveling overseas. Both the Journey Protector II and the Global Travel Protection plans do not provide adequate medical coverage nor adequate medical evacuation coverage to protect you if you have a medical emergency overseas. Medical evacuation costs can run upwards of $25,000 per flight hour, so $10,000 for the Global Travel Protection policy or even $50,000 for the Journey Protector II for medical evacuation won't go very far. Once that $10,000 or $50,000 has been exceeded, guess who pays the additional costs – YOU do! That's why TripInsure101 has those minimum recommendations.
Even though the pricing for the Journey Protector II sounds reasonable or even cheap at $44, there isn't much coverage for that cost – no trip cancellation refunds, no trip delay, no baggage delay, no change fee coverage and minimal coverage for trip interruption, medical coverage, or medical evacuation coverage. It would not be a good choice if we wanted to get a refund of our trip costs in case of trip cancellation. Therefore, let's look at the other option – the Global Travel Protection plan.
The Global Travel Protection plan is more expensive at $306 but provides a bit more coverage in some areas – trip cancellation and trip interruption is covered up to the amount purchased, $250 change fee coverage, $150 for travel delay, $500 for lost baggage, and the same $50,000 for medical evacuation as the Journey Protector II, but surprisingly only $10,000 for medical coverage!
Overall, both policies are inadequate even for domestic travel, but we would be woefully underinsured for our trip to the UK. Let's see what the open marketplace can provide us for our UK trip:
TripInsure101 Travel Insurance Options
TripInsure101 is a travel insurance marketplace. We partner with some of the largest travel insurance carriers in the USA. We enter your travel details, send them to our carriers, then give you binding travel insurance quotes. Your travel information is provided anonymously, so you won't be bothered with emails and calls from multiple insurance carriers. You will see a range of travel insurance options, with benefits and pricing easily comparable.
Inputting our trip details into the quoting system at TripInsure101, we are presented with 25 choices for travel insurance. Since we are traveling outside the US, TripInsure101 recommends having a minimum of $100,000 of medical coverage and $250,000 of medical evacuation coverage. The least expensive plan with adequate coverage, including coverage for any pre-existing medical conditions our travelers may have is the Trawick First Class for $238.01, which is the combined cost for both our travelers.
This policy provides $150,000 of medical coverage, $1 million of medical evacuation coverage, $2,000 for baggage and provides coverage for any pre-existing medical conditions if the policy is purchased within 14 days of the initial trip payment or deposit. The policy will also refund up to 100% of the trip cost if the trip is cancelled for a reason listed in the policy such as illness/injury prior to departure, a natural disaster at home or destination or even if a non-traveling family member suddenly takes ill or dies. Overall, the policy is more robust than either the Allianz policies and costs about $68 LESS than the Global Travel Protection plan.
Cancel For Any Reason (CFAR) Options
With TripInsure101 we also have another great option – Cancel For Any Reason (CFAR) insurance. If we want the greatest flexibility to cancel, we can opt to purchase a Cancel For Any Reason policy. These policies allow us to cancel for any reason whatsoever as long as we give 48 hours' notice prior to departure.
If we use a reason NOT listed in the policy, such as simply deciding not to travel, a CFAR policy will only refund a portion of the trip cost – either 50% or 75%, depending on the policy purchased.
The least expensive CFAR policy on our quote is the CFAR version of our Trawick First Class policy:
This policy has the same benefits as the standard Trawick First Class but adds the Cancel For Any Reason benefit which will pay us 75% of our total trip cost if we cancel for a non-standard reason. While more expensive than the standard First Class policy, it does give us broader cancellation coverage which may be desirable if we're worried about war, border closures, fear of traveling for some reason or just want more flexibility.
What about simply purchasing a refundable ticket instead? If we want to make our tickets refundable, that's an extra $200 per ticket: Same seat – just more expensive. Even with an upgrade of $1100 to Premium Economy for better seating, the ticket is still not automatically refundable unless we pay extra for that privilege. We can change the ticket but not get a refund if we can't or don't want to go.
Instead of purchasing a refundable ticket, by purchasing a Cancel For Any Reason (CFAR) policy, we can cancel our trip for ANY reason and at a minimum receive either 50% or 75% of our trip cost back. That refund would also include any hotel, tour or transportation costs that were non-refundable and included in the trip cost – not just the airline ticket! We call this purchase of a CFAR policy the "Airline Ticket Hack".
For a total cost of $404.62 for the Trawick First Class (CFAR 75%) policy, we can get a full refund of our trip costs if we cancel for illness or other reasons listed in the policy, or we can get 75% or our total trip costs back if we cancel for any other reason like deciding we simply don't want to go. Why pay an extra $400 for a refundable ticket when for $4.62 more we get a cancel for any reason policy covering our air, hotel, transportation, tours, and other non-refundable trip costs?
TripInsure101 – Compare & Save
TripInsure101 is a travel insurance marketplace. We get binding insurance quotes, anonymously, from our travel insurance carriers. We provide you with a simple comparison for travel insurance. Each of our insurance carriers is licensed and regulated in all 50 states, and D.C. Each has an A.M. Best Rating of at least 'A'.
Does TripInsure101 Charge More?
In the USA, travel insurance is regulated in such a way that the same policy cannot be sold at a lower price. We cover this in our excellent article: Travel Insurance Comparison. You will not find lower insurance rates for the same policy.
What does this mean to a consumer? It means that the cost of flight insurance that you see from us is identical in cost as if you went directly to the insurer. Give us one minute of your time and let us compare the travel insurance market for you. You do not need to contact every trip insurer.
So, enjoy your next trip with American, but be sure to check your travel insurance options in the marketplace.
Safe travels!
Recent AARDY Travel Insurance Customer Reviews
KEITH WYATT
Verified
about 11 hours ago
Denise was very knowledgeable
Denise was very knowledgeable, professional, and patient with my numerous questions. Sh was outstanding!
---
B McKay
Verified
about 13 hours ago
Excellent value and detailed review.
Excellent value and detailed review of access to all documents as I purchased trip insurance through Tripinsure101. Sylvia was a pleasure to work with and great at reviewing the on line access to all digital documentation of the trip insurance necessary should the need arise.
---
Deborah
Verified
about 21 hours ago
very easy on-line chat
very easy on-line chat - conversation continues with a professional and knowledgeable associate to which answered all my questions.