Baggage Insurance - 2023 Review
Baggage insurance will typically consist of two types of baggage or luggage protection:
baggage delay, and
baggage loss.
Baggage insurance, or luggage insurance, reimburses you for lost, stolen, or damaged luggage and personal items.
This baggage coverage is for the duration of your entire trip, not just your flight. Consequently it makes sense to cover the whole trip from start to finish.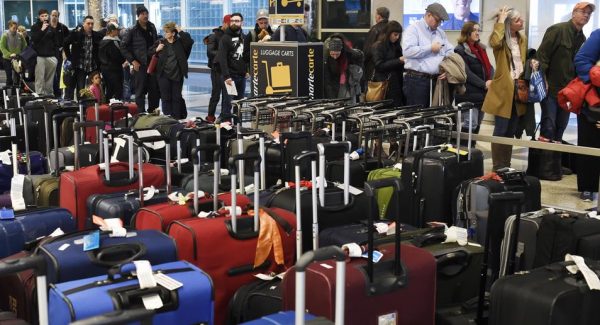 In addition to protecting the value of your luggage and personal effects, luggage insurance can also assist and reimburse you if your credit cards or passports are stolen.
It's important to have Luggage Insurance for your luggage for your entire journey because airlines offer limited protection for your checked baggage and do not cover your carry-on items. They may also exclude certain things, such as jewelry or sports equipment.
Baggage Insurance – Per Article Limit
Baggage Insurance has a per-article limit shown on your plan, along with a combined maximum limit for items such as the following:
jewelry
watches
articles consisting in whole or in part of silver, gold or platinum
furs
articles trimmed with or made mostly of fur
sporting equipment
ski equipment
personal computers, radios, cameras, camcorders and their accessories and related equipment and other electronic items.
Baggage insurance also covers baggage delay. The policy includes delayed bags for the outbound journey, but not the return flight. Baggage delay benefits reimburse you for the added expense of necessary personal effects if the airline delays or misdirects checked luggage longer than the allowed amount of time.
Baggage Insurance – High-Value Items
If you are traveling with anything highly valuable or expensive, it's worth considering purchasing the appropriate level of baggage insurance.
Many of our TripInsure101 Insurance Carriers will allow you to upgrade your level of baggage protection to ensure you get the coverage that meets your needs.
However, our advice is to travel with as few valuable items as possible. Travel creates more opportunities for loss to happen, so only take things you really need.
Baggage Insurance – Never Lose Luggage Again
As to bag loss, we have an excellent tip that involves placing business cards inside every bag - you will never lose luggage again.
At TripInsure101 we recommend everyone consider travel insurance. You can get an anonymous quote in seconds, and compare dozens of the top travel plans from many of the largest US travel insurers, saving you time and money finding the right travel plan for your needs.
What many people do not know is that they won't find the same trip insurance plans available at a better price. The US has anti-discrimination laws that require insurance costs to be the same, whether you buy from the insurer or a marketplace like TripInsure101.
Travel Insurance Comparison – Will I Pay More Buying Travel Insurance from a Comparison Website?
In short, a trip insurance quote for an insurance plan at TripInsure101 is the same price you see from the insurance carrier direct. We are not allowed to compete on price for 'filed' insurance products. No one is. You are garanteed to get the best value from us.
Safe travels.
Recent AARDY Travel Insurance Customer Reviews
Terry Stewart
Verified
about 7 hours ago
It was affordable and easy to obtain...
It was affordable and easy to obtain... Claim process unknown...
---
customer
Very pleasant and accomadating on…
Very pleasant and accomadating on answering questions.
---
Christine Wilson
Janet made it easy to purhase travel insurance for me and my nephew's upcoming holiday trip. I would refer my family and friends to your company!
Janet made it easy to purhase