Spirit Travel Insurance - 2023 Review
Spirit Travel Insurance
Strengths
Strong Insurance Partner
Ease of Purchase
Weaknesses
Poor Coverage
Confusing Flight Flex Program
High Price
Sharing is caring!
Spirit has grown to become a leading low-cost airline serving both US domestic and international markets. It has some of the youngest and most fuel-efficient planes in the US. Starting as a mainly domestic airlines, they have branched out into international travel to Mexico, the Caribbean and Latin America.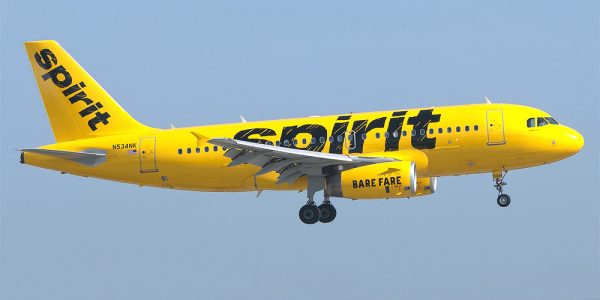 They offer a bewildering assortment of add-ons when booking fights, including security shortcuts and advance boarding as well as travel insurance and Wi-Fi access.
On their About page, they tout how they "invest in the guest" and direct you to check out more at InvestInTheGuest, but when clicked, you get a "404 page not found" error. Maybe they don't invest in their guests anymore? That doesn't bode well for their travel insurance either.
In our Spirit Travel Insurance review, we highlight the costs, and the limited benefits that are provided. We'll showcase alternative travel insurance options that are available for US customers. We'll also look at Spirit's 'Flight Flex' program. It looks suspiciously like flight modification insurance yet is incredibly expensive.
Spirit Travel Insurance – Provided by AIG Travel Guard
Like many airlines, Spirit sells travel insurance on check-out. Their trip insurance carrier is AIG Travel Guard, one of the finest insurers in the USA and that we represent at TripInsure101. However, we only offer AIG's fully comprehensive travel insurance policies. Spirit, in keeping with many airlines, offers what is referred to as an 'Air Ticket Plan.'
While AIG Travel Guard is an excellent insurer, the AIG Air Ticket Plan (whether domestic or international) is probably going to be totally unsuitable for most travelers. Let's see why.
Our Sample Trip – Seattle to Orlando
For our domestic trip, we chose going from Seattle to Orlando on November 9 – November 16 for two travelers. While we would have preferred to travel on the weekend, Spirit doesn't always have available flights on the days we want to go, so we opted for mid-week travel instead.
Throughout booking, you'll see two sets of fares: one for standard pricing and another using their Saver$ Club pricing. The Saver$ Club is a yearly discount club that will save you some money provided you travel enough with Spirit to make the $69.95 annual membership worthwhile.
Since we're not traveling much on Spirit, we're not inclined to pay this annual membership fee and stayed with the standard pricing. Be aware that Spirit doesn't like taking 'No' for an answer on the Saver$ Club, so you'll continue to see this option to purchase the membership throughout the booking process.
Once the flights are determined and seating chosen (if desired), Spirit gives you other options to buy before final checkout:
These additions range from having access to Wi-Fi access, priority boarding, a security shortcut (if available on the flight chosen) and something called 'Flight Flex'.
Spirit Flight Flex
'Flight Flex' allows customers to spend $45 to have the one-time option to change booking details up to 24 hours prior to departure without paying the normal $90 re-booking fee. Spirit Flight Flex needs to be purchased when you make your flight booking. You can't add it afterward.
In other words, you are paying an extra $45 ahead of time, so as not to pay $90 in case you need to change your flight. Spend $45 to save $45. While this may appeal to some due to the $45 savings, this is a really expensive add-on product and should probably be avoided. Cancel for Any Reason Travel Insurance will probably be more useful for Spirit travelers who need ultimate booking flexibility.
Domestic Travel Insurance
Finally, after wading through all the available options, right before checkout, we are asked if we'd like to add travel insurance for the trip.
Insurance for our trip is $71.56 covering both travelers. This is provided through AIG's Domestic Air Ticket Plan.
Here's what's included in the policy:
These are reasonable levels for the items covered. But what is missing? Where is the Travel Medical Insurance or Medical Evacuation Insurance?
Domestic Travel Medical Insurance
Most of us have some form of medical insurance that covers us at home. However, when we travel domestically in the USA, does our health insurance travel with us? Please check your own health insurance to understand the changes in deductibles and co-pays that you will face if using your personal health insurance while out of your network.
Travelers should expect to see medical coverage in any travel insurance that they buy. Travelers just assume that this type of protection is built into the quote they see when they search for travel insurance. However, the AIG Domestic Air Ticket Plan does not provide any medical or medical evacuation coverage. It is simply covering the cost of the airline ticket should you need to cancel and will offer some baggage coverage as well.
Domestic Travel Insurance Options
TripInsure101 is a Travel Insurance Marketplace. We work with some of the largest travel insurance carriers in the USA, then present their trip insurance options to our customers. If possible, we like to offer around a dozen different trip insurance quotes for each customer, with varying levels of coverage and cost.
Provide a few details about the trip and we send this information, anonymously, to each of our carriers. A second or two later, your travel insurance options are ready to view, with rates for every policy available. It is an incredibly simple process.
Inputting our trip details into TripInsure101's quoting system, we are presented with 15 different plans to choose from.
For domestic travel, TripInsure101 recommends having at least $10,000 in additional medical coverage (in case our US health insurance won't completely cover us outside our normal network), and a minimum of $150,000 medical evacuation coverage.
The least expensive plan, interestingly enough, is another plan by AIG – the Travel Guard Essential. Unlike Spirit's AIG plan, the Essential provides $15,000 of additional medical coverage and $150,000 of medical evacuation coverage as well as trip cancellation, trip interruption and baggage coverage. The premium is $41 covering both travelers, which is $30.56 LESS than the AIG Domestic Air Ticket Plan provided by Spirit!
This is a comprehensive travel policy and could also cover any other prepaid, non-refundable costs such as hotels, tours, Disney tickets etc. should we decide to include them in the overall trip cost.
The Spirit insurance from AIG will only cover the airline tickets and no other non-refundable costs and it's almost double in price to the AIG Essential plan shown from TripInsure101!
Spirit Travel Insurance – International Air Ticket Plan
We think that the situation gets worse for international travelers who are looking to buy Spirit Travel Insurance. When traveling overseas, even close to US borders, emergency health care costs and medical evacuations can be financially disastrous.
The State Department is not going to help a US citizen overseas who finds themselves needing to pay exorbitant health care costs because of a lack of travel insurance. Both the State Department and CDC are very clear about the logic in having sufficient travel insurance coverage when leaving the USA. For more information on recommendations, visit: https://wwwnc.cdc.gov/travel/page/insurance
What is a considered sufficient medical insurance when traveling internationally? We suggest having a minimum of $100k per person for medical coverage when leaving the USA. Lower amounts would only be considered suitable for those people who had strong secondary insurance that could support them overseas in an emergency.
Why $100k of emergency travel health insurance coverage? Quite simply, massive accidents or illnesses can easily cost $3k-$4k per day to treat. We want to see sufficient medical coverage limits in place to support any traveler overseas.
We also want to be able to put that traveler in a jet, with a medical team, to get them to the right hospital, if needed. That requires at least $250k of Medical Evacuation coverage for those who travel close to home.
For a flight to Jamaica from Austin for two travelers, here's what we were offered by Spirit for travel insurance:
Our $919 flight to Jamaica was available to insure for $87.34. The international insurance provided is AIG's International Air Ticket plan.
This plan does provide a bit of medical coverage ($10,000 per traveler) and medical evacuation ($20,000 per traveler), but not much more than the domestic policy in the other areas.
If our minimum recommendations are $100,000 for medical coverage and $250,000, then the Spirit insurance is not nearly sufficient enough should we have a severe medical emergency. Let's see what the open marketplace through TripInsure101 can offer.
Inputting the same trip details for Jamaica, we have 25 options to choose from. The least expensive plan with adequate coverage is the IMG Travel Lite for $85.64
This plan provides $100,000 of medical coverage and $500,000 of medical evacuation coverage as well as trip cancellation. It is also about $2 LESS than the Spirit policy from AIG and provides significantly better coverage all around.
Sadly, if we were to buy Spirit Trip Insurance, we would be leaving ourselves at significant risk in the event of sickness or injury.
Our advice to every Spirit traveler considering whether to buy travel insurance is to compare the market – shop around. It is highly likely that better coverage will be available at a lower price.
Cancel for Any Reason Policies
So far, we've talked about the importance of medical and medical evacuation insurance for both domestic and international flights. Another concern for many people is having the maximum flexibility to cancel our trip if we need to.
While policies do have standard reasons for cancellation prior to departure for a 100% refund of our non-refundable trip costs, what if we need to use a reason that's NOT listed in the standard reasons? Suppose we just decide we don't want to go after all? Is there a policy that will give us flexible cancellation options?
Yes! Unlike the Spirit insurance plans, the open marketplace has options for this. Cancel For Any Reason (CFAR) policies allow cancellation for any reason whatsoever and still receive either a 50% or 75% refund of the trip costs (depending on the policy purchased).
For our domestic trip to Orlando, the least expensive CFAR policy, is the AIG Travel Guard Preferred (CFAR 50%) at $70.16 total cost for both travelers together. This policy provides $50,000 of medical coverage, $500,000 of medical evacuation coverage and gives a 50% refund of trip costs if we cancel for a reason not listed in the policy. If we had to cancel for a serious illness or injury, then we would receive a 100% refund.
While many domestic travelers opt for CFAR policies, these can be extremely beneficial for international travelers concerned with border closures, war, sudden spikes in COVID at their destination etc.
For our Jamaica trip, the least expensive CFAR policy is the IMG Travel LX (CFAR 75%). This policy has $500,000 of medical coverage and $1 million of medical evacuation coverage and is priced at $209.88 total cost for both travelers combined. Cancelling for a reason NOT listed in the policy would refund us 75% of our trip cost while using a listed reason would refund us 100% of the trip cost.
While more expensive than the IMG Travel Lite we mentioned earlier for the Jamaica trip, the significant increase in medical and medical evacuation coverage as well as the Cancel For Any Reason benefit can make the policy attractive to those traveling overseas who want excellent medical coverage and maximum flexibility.
TripInsure101 named purchasing a CFAR policy the Airline Ticket Hack, and it is a great option instead of paying additional for a refundable airline ticket.
TripInsure101 – A Better Option
As a travel insurance marketplace, TripInsure101 compares travel insurance policies from leading insurers, so you don't have to.
Our travel insurance carriers are licensed and regulated in all 50 US states and D.C. Each Trip Insurance Carrier on the TripInsure101 site has been awarded an A.M. Best rating of at least an 'A'.
As such, Spirit customers who search through the TripInsure101 site are comparing from some of the best travel insurance carriers in the USA.
Guaranteed Best Prices for Travel Insurance
In the USA, insurance is regulated with anti-discrimination protection in place.
Anti-discrimination consumer protection exists for personal insurance products in the USA. This excellent legislation means that the same insurance policy must be sold at the exact same price, wherever it is sold. A full explanation of this protection is available here: Travel Insurance Comparison.
What does this mean to you as a travel insurance customer? If you visited each of our travel insurance partners and ran quotes with every one of them, you would see the exact same price as we quote. You no longer need to jump from insurer to insurer. You will see the best rates for each trip insurance policy we offer.
So before deciding to click on the 'Yes' for Spirit's insurance, shop around and see what better options you have in the open marketplace though sites like TripInsure101.
Safe travels!
Recent AARDY Travel Insurance Customer Reviews
customer
Very pleasant and accomadating on…
Very pleasant and accomadating on answering questions.
---
Christine Wilson
Janet made it easy to purhase travel insurance for me and my nephew's upcoming holiday trip. I would refer my family and friends to your company!
Janet made it easy to purhase
---
Loren G.
Five stars is not enough stars!
Five stars is not enough stars! Nicole and Destiny both did great jobs. They recommended the best value for the price and made sure that ALL the details of our application were correct (very important!). This is our first time purchasing trip insurance and I had A LOT of questions. Through multiple calls, both were willing to spend as much time on the phone as I needed and I especially appreciate the agents' easy (and quick) access to another person who could address a couple of specific concerns I had which Destiny couldn't readily answer. We've done this trip every year for ten years and never purchased insurance but after witnessing a person get hurt badly last year we realized we were taking a big chance. Now we're covered and Nicole and Destiny made it all easy to do. We'll be checking in again next fall to "re-up."