Turkish Airlines Travel Insurance - 2023 Review
Turkish Airlines Travel Insurance
Strengths
Insurance Available At Checkout
Weaknesses
Sharing is caring!
Turkish Airlines is the national flag carrier airline of Turkey. It operates scheduled services to approximately 340 destinations in Europe, Asia, Africa, and the Americas, making it the largest mainline carrier in the world by number of passenger destinations.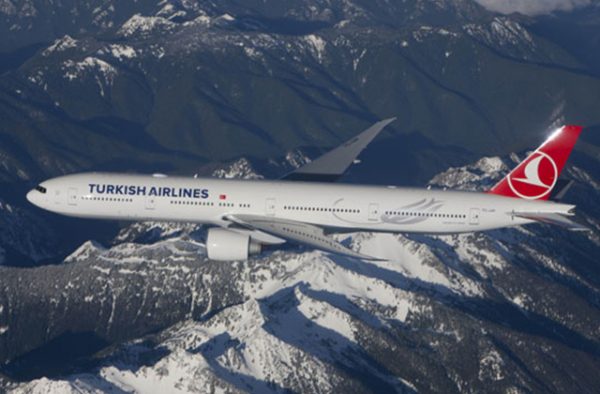 Turkish Airlines – Our Sample Trip
For our sample trip, our two travelers will be traveling from New York to Istanbul on January 17 and returning on January 29. The Turkish Airlines website makes trip selection easy with just a few options to enter before showing available flights for the trip details entered.
However, if a table view is preferred, then there is a link to it within the initial quote screen. The table shows a seven-day view and lowest fares are asterisked.
When you select a fare, the screen opens to show you various fare options. For example, selecting the Economy fare opens three choices – Economy Promo (the lowest fare), Economy Semi-Flexible and Economy Flexible. Besides the pricing differences, different penalty fees are incurred with each option.:
The same applies for Business Class:
We opted for a Business Promo fare for both legs of the trip. Total cost for both travelers after choosing seats was $9,561.56
Prior to payment we have the option to purchase travel insurance from a company called XCover, a newer player in the travel insurance industry. The policy is underwritten by Generali, a well-known insurer. Total cost of insurance, called 'XCover Protection', is $717.12.
Let's look at the benefits for this policy:
The policy provides a 100% refund for trip cancellation, and 150% for trip interruption.
Medical benefits are $50,000 per traveler but only up to $100,000 total per policy.
Medical Evacuation benefits are $25,000 per traveler with a maximum of $50,000 per policy.
Both the medical coverage and medical evacuation coverage are low even for international travel close to US shores and totally inadequate for travel far from the US.
Before deciding on taking Turkish Airlines' travel insurance, let's see what we can find in the open marketplace.
TripInsure101 – The Travel Insurance Marketplace
TripInsure101 is a travel insurance marketplace. We get quotes from leading travel insurers and show them to you in an easy-to-read format.
Inputting our trip details into the quoting system at TripInsure101, we're presented with 27 options to choose from.
With so many options, what would be the best policy to choose?
TripInsure101 recommends having a minimum of $100,000 of medical coverage and $500,000 of medical evacuation coverage for travel to Asia and points beyond.
The least expensive plan with adequate medical coverage is the Trawick First Class for $571.04 which is the total cost for both travelers combined.
The policy provides $150,000 of medical coverage and $1 million of medical evacuation coverage as well as trip cancellation, trip interruption, and baggage coverage. If we need to cancel prior to departure for a reason listed in the policy, such as illness or injury, we will receive a 100% refund of our trip costs.
With superior coverage, the Trawick policy is also $146 LESS than XCover! This is why we encourage travelers to check the open marketplace before simply opting to purchase insurance through Turkish Airlines.
What if we want maximum flexibility to cancel for ANY reason? Do we have any options?
The answer is YES! A Cancel For Any Reason (CFAR) policy will provide maximum cancellation flexibility.
Cancel For Any Reason (CFAR) Policies
For maximum cancellation flexibility, a Cancel for Any Reason (CFAR) policy is a great option.
This is a super-powerful benefit that does exactly what it says. A traveler needs to have no reason at all to cancel and still receive a significant refund. The policies that we have can provide either a 50% or a 75% refund depending on the policy chosen.
Looking at our quote from TripInsure101, the least expensive CFAR policy with adequate coverage and also includes a waiver for pre-existing medical conditions is the John Hancock Silver (CFAR 75%). The policy provides $100,000 of medical coverage and $500,000 of medical evacuation coverage as well as trip cancellation, trip interruption, and baggage coverage. It adds the Cancel For Any Reason benefit as well as coverage for any pre-existing medical conditions if we purchase the policy within 14 days of the initial trip payment or deposit date. Total cost for both travelers combined is $951.00.
If we had to cancel for a listed reason in the policy such as an illness, we'd receive 100% of the non-refundable trip cost. However, if we cancel for a reason NOT listed in the policy, such as simply deciding we don't want to go, the policy will refund us 75% of the trip cost.
Never buy a refundable ticket again if possible. Instead, buy a non-refundable ticket and get yourself travel insurance with a cancel for any reason benefit from TripInsure101.
You will get nearly the same flexibility plus a comprehensive insurance plan, plus you will save hundreds of dollars on your flights. Refundable benefits, yet with non-refundable tickets!
Aardy – One Site – Many Carriers
Think of us at TripInsure101 as Amazon for travel insurance. Comparison shopping is easy. At TripInsure101 we make comparing travel insurance easy. You do not need to go to every carrier. At TripInsure101 we provide binding quotes from our carries and present them in an easy-to-read format. The beauty of insurance comparison is you get to see all the best prices in the market.
Does TripInsure101 charge More?
You won't find the same trip insurance plans available at a better price – price certainty is guaranteed because of anti-discriminatory insurance law in the US. This is really powerful consumer protection.
A travel insurance marketplace like TripInsure101 will offer a multitude of different plans from some of the most respected travel insurance carriers in the country. You will only need a few minutes to check value for money, coverage, and insurance carrier ratings.
Enjoy your next trip on Turkish Airlines and remember to pack your travel insurance.
Safe travels!
Recent AARDY Travel Insurance Customer Reviews
customer
Very pleasant and accomadating on…
Very pleasant and accomadating on answering questions.
---
Christine Wilson
Janet made it easy to purhase travel insurance for me and my nephew's upcoming holiday trip. I would refer my family and friends to your company!
Janet made it easy to purhase
---
Loren G.
Five stars is not enough stars!
Five stars is not enough stars! Nicole and Destiny both did great jobs. They recommended the best value for the price and made sure that ALL the details of our application were correct (very important!). This is our first time purchasing trip insurance and I had A LOT of questions. Through multiple calls, both were willing to spend as much time on the phone as I needed and I especially appreciate the agents' easy (and quick) access to another person who could address a couple of specific concerns I had which Destiny couldn't readily answer. We've done this trip every year for ten years and never purchased insurance but after witnessing a person get hurt badly last year we realized we were taking a big chance. Now we're covered and Nicole and Destiny made it all easy to do. We'll be checking in again next fall to "re-up."